Dance Lessons Tuition and Gift Certificates
Tryout  (Complimentary ) Lesson
A complimentary 45 minutes introductory lesson showcasing various dances you might be interested in. You will meet the teacher, see the studio, choose dances and dance programs that suit you best.
Please note that the complimentary dance class offer does not apply to couples who come for wedding first dance choreography and lessons 14 days or less prior to their wedding day!
For the wedding dance program details please visit our wedding dance website yourweddingdance.ca  (Click here….)
 Dance Lessons Tuition
Dance program options:
"Pay as you go"
One or two people (45 minutes long) private dance lesson $75.
Three people (45 minutes long) semi private dance lesson $25 per person.
Four or five people (45 minutes long). This is considered a small group $20 per person.
Group class (six and more people) studio groups or your own friends. Group classes are $15 per person.
Party practice dance session (one and a half hours long) $20 per person.
Our prepaid program:
The five private dance lessons dance program is $360 (Safe $15).
The ten private dance lessons dance program is $ 700 (Safe $50).
All prices are tax included.
Lessons are 45 minutes long and the room is NOT shared with anybody else during that time.
For Visa, MasterCard, American Express and JCB credit cards there is a transaction service charge of 3% .

Gift Certificates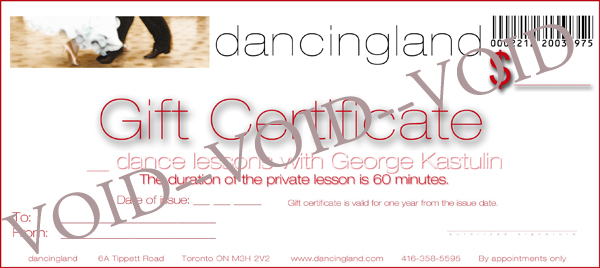 A dancingland dance studio gift certificate is a special way to nurture your loved one's desire to learn how to dance.
It is also a thoughtful present for a friend, family member or colleague.
Open a door to an exciting new world of fun, adventure, liveliness and entertainment.
Whether it is for a special occasion or just to say "I care".
Pamper someone today and put a smile on their face.
Your gift certificate is whatever you want it to be. The recipient can use it towards:
Private dance lessons (75$ per lesson)
Private wedding dance choreography (75$ per lesson)
Group dance classes (15$ per class)
Dance parties at the dancingland dance studio (15$ per party)
To order a gift certificate please email us or call (416) 358-5595
Gift certificates can be e-mailed for printing or mailed to you