We are looking forward to returning to our main location at 3711 Chaeewood drive as soon as the government will release the dance studios in Toronto region for operation.
Besides, online dance lessons are still available. Drop us a line or give us a call at (416)358-5595
Therefore, the Group Classes and Dance Socials (Party-Practices) are still not available. Sorry.
Dancingland studio is a great place to introduce yourself to the world of dance.
Move to the rhythm of Dancingland's musical beats and dance, dance, dance!
Grant the dancer in you rise to the surface at our studio, here you will find all the aid, knowledge and experience you need to learn (and enjoy!) how to move to the music.
What is a more fantastic way to combine fun and a good workout than to learn how to dance?!
The Social Ballroom and Latin Dance program at Dancingland Dance Studio is designed to help beginners learn dances quickly and non-intimidating. For example, famous TV dance shows such as "Dancing with the Stars" and "So You Think You Can Dance" illustrate dances that are easily within your reach. In the same vein, Social dancing is very sophisticated and elegant while being user-friendly. Therefore, people can learn dance styles and exciting dance patterns and enjoy dancing to their favourite song, just like you have seen on television.
Our Social Ballroom and Latin Dance Program includes:

To begin with, you will learn dance patterns and how to apply them to each dance style.
At the same time, you will learn how to lead (for gentlemen) and follow (for ladies).
Of equal importance, you will learn how to dance to the music and recognize the right dance to the tune you hear of equal importance.
As a result, develop and expand a sense of rhythm.
Consequently, you will have the knowledge, skills, confidence and freedom to know how to dance to any song regardless of the venue.
 You can decide whether you want to start with one or more of your favourite dance styles.
Just tell us what kind of dance you are interested in learning, and we will help.
One of the best ways to begin is by taking a complimentary 45 minutes private lesson.
Individuals, couples, or small groups of friends will be introduced to different dances therefore immediately experience the joy of dance.
During this session, we will also discuss individualized programs, time scheduling and tuition.
Most importantly, our job is to answer your questions and ease any discomforts you may have as you begin dancing.
You have nothing to lose and everything to gain! Therefore take advantage of our complimentary first lesson offer!
What our dancers say about Dancingland Dance Studio:
What an incredible and fun time!
After taking a dive and finally deciding on taking private dance lessons, I found George to be a kind and sweet teacher. For anyone considering taking lessons, I would highly recommend coming here!
2020
Dancingland is the place to love dancing and to improve your skills.
Learn with George the beautiful art of dancing ballroom dances. His approach is individualized to what you want to learn. Whether you are single or a couple, the whole experience is uplifting and fun.
2020
Thank you, George, for the fantastic dance classes.
We had our custom dance routine choreographed and wowed all our guests.
The in-law parents joined in on the classes as well.
Now dance class is an activity both my wife and myself enjoy as a fantastic workout. Group classes are always a blast!
2020
Excellent instruction from a knowledgeable teacher.
We consulted George for our daughter's wedding 7 years ago. He provided the perfect choreography for the father/daughter dance. We have continued to take private lessons from him ever since.
2020
I have been taking Latin dance lessons at George's studio for a couple of years now.
George is an exceptional teacher. He puts much attention into improving your technique, immediately perceives why his students are having difficulty executing any dance moves and patiently demonstrates the correct steps and body positioning until his students grasp the lesson.
George gives his pupils personal attention, and he and he makes each class enjoyable too. Take dance lessons under George's tutelage, and you will learn proper dance techniques, get some healthy exercise, de-stress and have fun all at the same time!
2020
My wife and I have been attending individual dance lessons with George since spring 2019.
We are delighted we started with George. We are 60 y.o dance novices. George is an excellent teacher, uses good humour to lighten up the classes and adjusts his teaching to the ability and level of the student. Provides encouragement and opportunities to mingle with other couples at a similar level to push one out of the comfort zone just enough to progress. We enjoy the classes, and it is a great break from the routine.
Thank you, George!
2020
George Kastulin is the Owner and Principal Instructor at Dancingland Dance Studio in North York, Toronto.
Offering instructions and choreography for ballroom and wedding dance.
We at Dancingland understand your recreational needs.
Who wouldn't like to go out for an enjoyable evening of dance? We provide you with a fun and patient environment and an immense amount of knowledge to heighten your skills and techniques.
Moreover, the instructor and students at Dancingland Dance Studio have earned numerous awards at the dance competitions and dance showcases and earned critical acclaim for their dancing style. Most importantly, the instructor is thoroughly knowledgeable about dance mechanics, theory and can help the inexperienced attain a quick mastery of dance movements.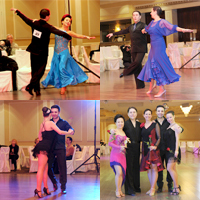 Our dance lessons take place at:
Main Studio Location
Privates, Groups & Dance Soirees
Private dance lessons are by appointment only.
To sum up, Dancingland Dance Studio always does the very best to improve every student's confidence and individual progress. Therefore, by developing motor skills, coordination, self-expression, musicality, and creativity, our students achieve their individual goals at maximum!
Above all, we aim to inspire personal awareness and well-being, support and group synergy and even a sense of friendship and family.
Dancingland Dane Studio
3711 Chesswood Drive, North York, M3J 2P6, Ontario, Canada
+1 416 358 5595