Owner of the Dancingland Dance Studio, Dance Instructor, Wedding Dance Choreographer
George Kastulin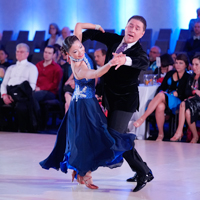 George Kastulin is an experienced ballroom dance instructor and wedding dance choreographer.  As a recognized professional in the industry, he brings many years of technical know-how and teaching expertise to his practice.  Most importantly he does this in a manner that ignites your passion for dancing, unleashing your inner world on the floor.
George began dancing at the age of fourteen in Odessa, Ukraine.  He quickly fell in love with ballroom dancing and the infatuation, glamour and intense competition it provided.  He developed a heartfelt desire to learn how to move gracefully to the music and lead a partner on the dance floor with confidence, ease, poise and control.  All of this kept him coming back for more training, more devotion and more drive to constantly reach new heights and results.
After immigrating to Canada in the year 2000, he continued his dance and teacher training.  He started working as a dance instructor with students and building up his instructor client base.  He has been coached by world acclaimed teachers and judges. These have included: Jt Thomas, Olga Foraponova Wright, Ann Harding-Traffor, Pierre Allaire, Mireille Veilleux, Denis Tremblay, Pat Traymore and more. George has trained in both International and American styles of Ballroom Dance. He also continues to attend workshops and dance congresses as well as studying with renowned coaches.
George participated in the following North American competitions:
Parallel to that, he dances Pro-Am with students interested in learning choreographed routines for competitions. For those who are interested in performing, there is a chance to take part in monthly showcases and spotlight events at the studio and dance competitions outside of the studio.
George also specializes in wedding dance choreography.  He takes time to get to know the couple's personality and synergy and creates a first dance that reflects their bond and remains a heart- warming memory for a lifetime.  He also loves a challenge and a good party. He can definitely help you to include your bridal party in the dance choreography.  Some people like to have a father and daughter  dance and/or mother and son dance in addition to a bridal party dance in their reception.
One fascinating fact that influences George's connection to choreography and the profound understanding of music is that he is a professional Oboe player!  He earned a Master's Degree with honours in Arts and Music from Odessa State A.V. Nezhdanova Musical Academy as well as a post-graduate diploma in Arts from Freiburg School of Arts in Germany. This professional background allows George to emphasize musicality, phrasing and rhythm. As a result, students gain a greater appreciation of music and timing.

"Ultimately, I love teaching ballroom dance because of the opportunity it gives me to work with different personalities. Each student desires to dance for their own reasons and needs a tailored approach.  I embrace this individuality by encouraging my students to dance naturally and genuinely, from the heart, while emphasizing ballroom basics and technique." -George Kastulin