Our Gift Certificate is one of the best ways to recognize people!
It is very appropriate as the:
Birthday gift, Retirement Gift, Engagement Gift, Wedding Gift, Anniversary Gift, Graduation Gift, Mother's Day Gift, International Women's Day Gift. I am not sure about Father's Day Gift; check with your dad first if he has any interest in dancing.
Don't forget about Valentine's Day Gift!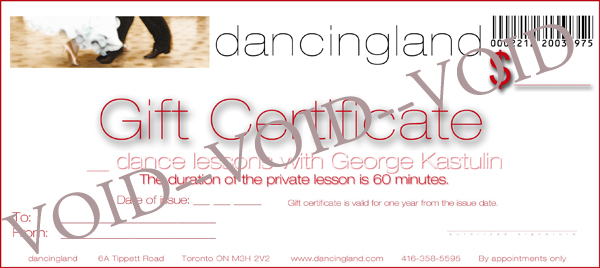 A Dancingland Dance Studios Gift Certificate is a special way to nurture your loved one's desire to learn how to dance.
It is also a thoughtful present for a friend, family member or colleague.
Open the door to an exciting new world of fun, adventure, liveliness and entertainment.
Whether it is for a special occasion or to say "I care."
Pamper someone today and put a smile on their face.
To order a gift certificate, please follow the link (Click here….), email us or call (416) 358-5595
Gift certificates can be e-mailed for printing or mailed to you.