Reviews from our students:
Thank you for all our students for kind words.
---
I'm taking group and individual classes with George for more than a year. George is an amazing teacher and choreographer. His teaching style puts you at ease right away and his lessons are tailored to what you want to learn. With a strong focus on fundamentals he adds layer on layer until you are dancing a beautiful routine. He teaches way beyond just steps and helps to find essential emotional, physical and musical connections in every dance. I appreciate his patience when teaching new steps and techniques. He makes dancing very enjoyable, casual and comfortable experience. His classes are fun and challenging. Highly recommended to all!
March 2018
---
George and us worked on our 1st wedding Danse.
It took us only 10 lessons to create and to successfully execute our Danse at the wedding.
And the credits go to George, who lead us from the beginning to the end, with great energy, approach, method.
We, Yulia and I, Thank George for what he helped us to realize. We highly recommend George services!
2017
---
My now husband and I were absolutely horrible dancer – we were the "hold each others waist and spin in a slow circle" couple. George helped us learn some easy and flashy moves that helped us use up some of the space on our huge ballroom floor. Our dance looked amazing, and we were so proud to show off to our guests. We couldn't have made it look so beautiful without George's help!
2017
---
2017
---
A long overdue and well deserved review for the amazing dance teacher George. We were frantically looking for a reputable dance instructor to ensure our first dance is a memorable one and came across George. We had a great first meeting just to set the expectations and what we were looking for as an end result. He created a routine suitable to our capabilities and did not give up on us even when we gave up on ourselves. George's ability as an instructor is stretched beyond dance. It was apparent that he spent a lot of time planning our routine and caring about the presentation. Thank you George for the fantastic dance lessons and creating such a wonderful experience for us.
Jessie and Ben
2016
---
My husband and I have been taking lessons from George for about a year. I had previous non-ballroom dance experience and my husband had never danced. George is wonderful at teaching to different levels even within the same class or couple. We always have fun and learn a lot. He is great at explaining techniques in a way that's understandable. I always feel challenged but not overwhelmed. We only expected to take a few classes just to try something new and we had so much fun it's hard to believe it's been a year already. We are looking forward to many more.
2015
---
George is a phenomenal dance teacher and he throws in life lessons about marriage too! He created a routine based on our capabilities and challenged us to do things we never thought we could do. Everyone was so impressed by our "So You Think You Can Dance" worthy wedding dance! He taught both my husband and I our own parts and how to listen and feel each other's movements. We love the Waltz now and will continue dancing for sure.
Thanks so much George!
Melissa and Sam
2015
---
George was fantastic!!!!!
He squeezed us in for a quick lesson 2 days before our wedding! He helped us so much and gave us the confidence to tackle our first dance together.
I would definitely recommend him to anyone.
Thanks again for all your help!
Our dance first dance would not have been the same without your guidance and expertise!
Best,
Whitney and Matt
May 30th 2015
---
My wife and I started taking choreography classes for our wedding dance. George was amazing instructor. He can teach dancing a guy with 2 left legs. LOL. I really loved his method of teaching, so after a few classes we performed greatly at our first dance at the wedding. We continue taking occasionally classes with him as group classes for fun and fitness and coordination. George is a great instructor and experienced instructor and I will highly recommend him to anybody +++
2015
---
2014
My husband and I went to the dancingland studio for dancing lessons a couple of times. And every time we had so much fun. First of all the atmosphere in this studio is very welcoming and friendly, secondly the instructor is very skilled and makes even tough moves looks very easy. Finally, it is such a great time to spend with great music and new people. I would recommend this studio to everybody who wants to learn how to dance and have a good time.
---
2014
Not only am I learning how to dance at dancingland but George creates such a friendly, welcoming atmosphere that I am always excited to go to his classes and dance parties. Since I met him I have learned a lot about posture, rhythm and grace. It is amazing how you can learn so much and have so much fun at the same time. And I never worry if I don't have a partner, George always manages to keep everyone feeling included and on their feet moving to the music!
---
2014
It is always fun to go to a private lesson or a group class with George as the instructor. Sometimes even when I felt stressed out before going to a class, I came out feeling happy afterwards. My wife and I started with private lessons, but soon found out that group class is also a good place to learn and practice, and we have met so many nice people. Once we are there, we are "dancing in wonderland!"
---
2014
Needless to say what a fantastic experienced instructor George is. He is very knowledgeable in ballroom dancing and of its history.
I am most impressed by his way in breaking down dance steps that my husband and I find difficult. The steps then become exhilarating, easy and enjoyable. While I feel George is making sure we are building solid foundation block in techniques,patterns and habits as we dance, he often teaches us more new steps as he sees fit. Hence, it has always been fun and interesting. We learn fast and lots not because we are smart, but because George puts in his all and never holds us back.We started taking private lessons in January last year and continue to enjoy going. There are opportunities dancing with other members in group classes and dance parties. Through dancing we learn from others who are gracious and kind. In conversations with others I gather that George tailor makes his coaching to each student and keeps improving our skill. I totally agree with those who say it is fun learning to dance under his guidance.George is a great dancer besides being a great teacher. Indeed very lucky for us who are keen to know what ballroom dancing is about.
2014
My wife and I took lessons with George to prepare for our wedding dance. Both of us are novice dancers and had just about a week to get ourselves ready. George came through for us! He is very patient and makes dancing fun but most important of all George explained all our dance moves to us in a way that we could understand and that's the mark of a great dance instructor. He put together a routine for us, taught us the dance and showed us how to think on our feet, and on our wedding day our first dance was awesome! Everyone gave us so many compliments and all the credit goes to George. We could not have done it without him! If you're looking for a great dance instructor in the Toronto area, I would highly recommend George Kastulin of Dancingland. George, thanks for all your help and for making my wife and I feel confident on the dance floor!
---
Reviews from Yelp.com
Everyone at our wedding was floored by the dance we did for our first dance at our wedding! We went to George at the very last minute hoping he could teach us the most basic dancing, and maybe how to avoid stepping on each other's feet. He tought us in three hours how to walk in formal wear, how to carry ourselves and how to be prepared for those moments after our ceremony. Our dance was so worth the price of lessons, a wedding expence i hadnt planned for but i am so glad we did! Our dance was definitely a highlight of the night. If you are in doubt and there's next to no time left to the wedding, go see George! He is so good at what he does, and he saved us some serious embarrassment 🙂
Reviews from 2013
---
A++ experience ballroom dancing. George mixes his "down to earth" character with excellent teaching technique to provide the most amazing experience and results in our dancing. My boyfriend and i love him!
---
George is awesome. My girlfriend and I have been going to him for almost a year now and we have grown to love ballroom dancing and his way of teaching more and more. We were brand new to this type of thing and George was exactly what we needed. His patience, flexible schedule, skill, and sense of humor all combine to make an experience worth talking about with friends and family when the lesson is done. Enough said. We are extremely happy with his services and our progress.
---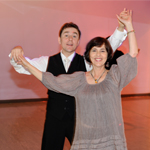 I have been taking classes with George for over 10 years. He is a gifted dancer and teacher which is a wonderful combination. He has brought much knowledge, discipline, fun and joy to my life.
---
George is a highly skilled dance instructor, very intuitive, with positive energy and great personality. Dancing with him offered me the chance to improve on dance skills and technique, posture and fitness level, leadership/soft skills and confidence. I would say that he is different than other instructors due to his capacity to team up with his students to help identify their unique opportunities and challenge them to reach them. Highly recommended !!!!
---
Ryan
"After a few months of lessons with George, both group and private, not only has my dancing drastically improved, but so has my posture and knowledge of dance as a whole. As a beginner, George has been extremely patient with me, and makes learning the technical components just as enjoyable as the steps themselves.
He as a unique ability to convey his knowledge of dance in a way that's understandable to a beginner like me. His energy and passion for teaching dance shines through with every lesson, it's so great to have a teacher who really enjoys what they do – and based on my experience with other instructors, I can say that George is most certainly the best dance teacher I've had!"
---
Vivienne Osen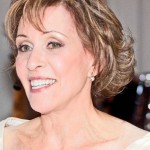 "George is a wonderful dance teacher. Not only is he expert at all aspects of ballroom dancing, but he is also tremendous fun to work with. He makes every lesson a happy and fun experience…. and he taught me to dance, which was a major achievement. George is dedicated, personable and enthusiastic. I consider myself lucky to have found such a dance teacher."
---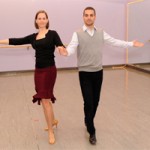 "George is an amazing and knowledgeable teacher. I have danced since I was young, but never ballroom. My husband has never danced before. George is able to teach to both of our levels simultaneously so that neither of us is bored or overwhelmed. I was surprised at how quickly we started learning and how much we've learned so far. I would highly recommend learning ballroom and there's no better teacher than George."
George is consistent and persistent to teach you the right way. He has a long-term vision with his teaching style and not until later do you realize how pieces of the dance puzzle come in together. He is passionate and very patient, making him a great teacher especially for beginners who have multiple challenges on the dance floor. His desire to teach is expressed in each dance session. Our confidence and knowledge has increased tremendously since we have started to practice with George.
---
Reviews from November, 2012
---
Joan Dolgin
"George is a delightful and committed teacher. His ability to frame his instruction to fit our learning styles is unparalleled. We are not only learning to dance, we are learning to dance well. He brings expertise and pride to each lesson. That is what we are learning from him!"
---
Alastair Bramall-Watson
"George excelled in his dance instruction. He had a lot of patience for myself who had never tried to dance before. His instruction was interesting and memorable. He has my highest recommendation"
---
Bill and Jessica
"My wife and I chose George to teach us to dance a special dance for our Silver Wedding Anniversary. George is a fantastic teacher and has shown immense patience with both my wife and I. He is knowledgeable and can work with anyone I feel, since he works with us! More importantly he is very personable and has a great appreciation of what skills we have and don't have. lol!
We love his teaching so much that I am sure we are going to continue even after our special occasion. Our dance is looking great!!!
Thank you George. You are spectacular!!"
---
Marilyn Browman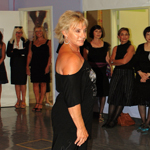 "I have been taking individual dance classes with George for the past 8 years. George is a knowledgeable, professional, inspiring dancer and teacher. George has also given lessons to my husband and myself and we have been asked if we are dance instructors when seen on a dance floor. All I can say is that we owe it all to George. He cares for his students and their progress and makes their classes fun while learning. Thanks George for a wonderful experience."
---
Reviews from 2011
---
Paula Gardner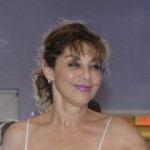 "I have taken dance lessons with George every week for the past four years. When I started I didn't know a Foxtrot from a Tango, a Salsa from a Samba and now I feel like I could enter "Dancing with the Stars". Preferably with George as my partner. George makes learning how to dance very enjoyable and creates an environment where anyone can flourish!"
---
Laurie Gelbloom
"George is a great dance instructor. He is patient, extremely knowledgeable, friendly and warm. George makes you feel very comfortable learning new dances and his classes are so much fun!"
---
Stephen Nadler
"I cannot imagine a better ballroom dance instructor than George. He is extremely knowledgeable and passionate about his trade. Each lesson we have had with him has been both educational and a ton of fun."
---
Reviews from September, 2010
---
Sharon Bobkin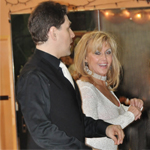 "I started dancing with George a year ago and the only thing I am upset about is that I didn't know about him earlier. He is an amazing teacher: kind, patient, and attentive. I have a very stressful job and dancing with George helps me relax while at the same time providing a great workout. The hour I spend with him always seems to fly by. Thanks George, I will be your client for life."
---
Chris Tam (review from linkedin)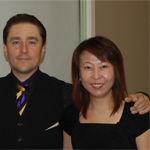 "George is a very professional dance expert who is very knowledgeable in his field of work. He is always patient with his students which helps them perfect not only the dance but also their techniques. He works well with all different kinds of students and is willing to work one on one with students who are struggling to perfect the dance. George has inspired me to become a ballroom and Latin fanatic and he has helped me progress in my dancing a lot. I highly recommend him as a dance instructor."
---
Ludia Fong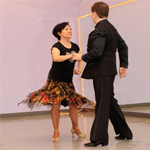 "We have been taking lessons with George since August 2008. Although I have numerous teachers previously, I found him the best I ever had. My husband loves his teaching us to "dance with music" and not just dancing. We found George very patient and detail in his teaching. He does not jump into teaching us routines until we master the basic steps, and ensure we have the correct posture for each step. To these, we thank George for his great job and patience. We also thank him to teach us the difference between international ballroom dance and American smooth. Both of us enjoy totally our dancing lessons. We highly recommend George to those who are interested to learn ballroom dancing, and wish to be graceful on the dance floor."